Australia vs Spain: Match Summary and Facts
Last Updated: June 25, 2014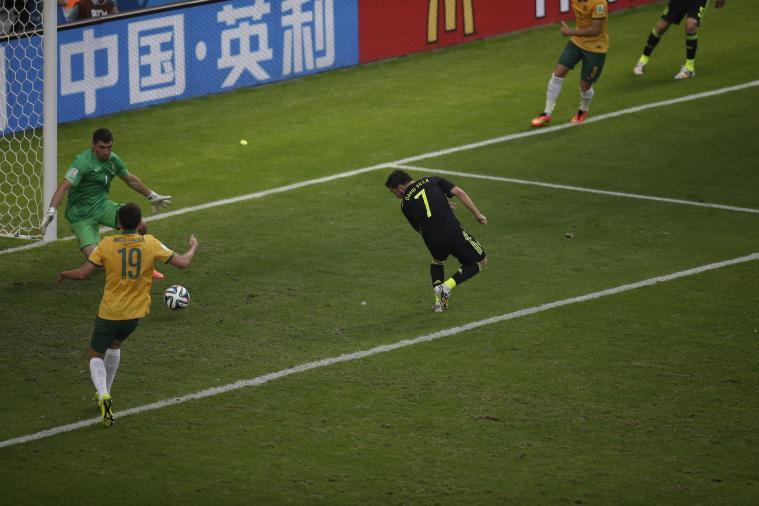 Quick Facts About Spain:
Spain is currently ranked as FIFA's top country in the world ranking. And what a shame it is for them to be out from the world cup like that. Having made 14 appearances in world cup and won it in 2010.david villa (8) is certainly regarded as their best player so far. Vicente Del Bosque is their current coach for the past 6 years. a lot of critics blame Spain's defeat to injury of Xabi Alonso whose partnership with Sergio Bosquet has helped players such as Xavi, Andreas Ineista and Cesc FAbrege to give their full potential. Their strength is the experience and talent of their midfielders that has won them trophies like Confederation cup. Their star player David Costa a Brazil born forward plays for Atletico Madrid. He had to make a tough choice between choosing Brazil or Spain for world cup and turned down a million dollar offer hoping to bring his native country through the finals.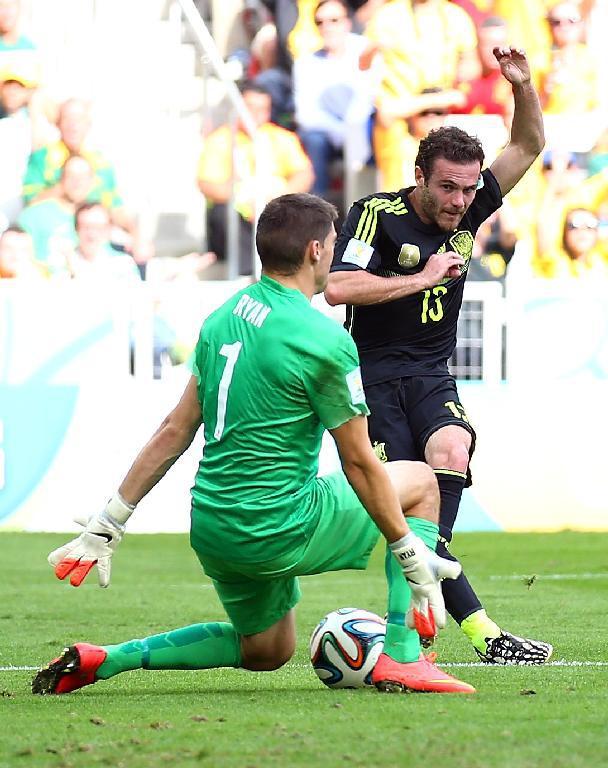 Australia: Ryan, Davidson, Spiranovic, Leckie, Taggart, Oar, Bozanic, Jedinak (c), McKay, McGowan, Wilkinson
Spain: Reina, Albiol, Juanfran, Iniesta, Villa, Torres, Alonso, Ramos (c), Koke, Alba, Cazorla
Match Summary:
The teams have arrived; they're singing their anthem and nothing out of the ordinary going on. And they're off, Taggart gets hold of the ball and he's chased by Albiol and Reina. Next the ball is hurled down as Spiranovic and Torres fight for it. Spain is exerting some pressure and Davidson has the ball again it rolls down from McGowan to Leckie, Spain's Juanfran abandons it. Now this is hard for the Aussies, Spain has possession of the ball now and the Australians just surprisingly throw themselves onto them making it hard for the Spanish to get out but the talented Torres has one of it's famous first touches. Villa sends a forward pass through the opponent team's defence but he's pulled for offside. Spain is finally picking up. Villa sends a pass to Iniesta and Cazorla right on the the Australian D but his shot gets blocked from his boot. They are exerting pressure again as Iniesta gets involved. Iniesta sends a cross to Cilla right outside of McGowan, but Iniesta aims a left foot volley but he cuts it and Mat Ryan takes a sigh of relief. First shot for goal from Jordi Alba but hits Ryan straight up who handles it really well. Spain takes a corner on the left and there's no space for Ineista, He continues towards Alonso in midfield and finally ending on Riena, a very indirect route to goal indeed. Villa fools Spiramovin to the left with a couple of stepovers. Then makes a cross through Australian box but sadly Cazorla or even torres couldn't get a touch, or that would've led to a goal. 37 minutes so far Iniesta circles round Davidson and finds Juanfran in the loop. He then runs to By line and there's Villa all alone in the Australian box. Villa scores right through the goalkeepers legs. Australia is picking up making efforts. Oar dangerously crosses between Reina and Spain's defenders. Alba jumps in to clear the way but only makes it hard to Oar. Kokae tries to make a shot but like always it goes left and so Ryan berates his defence. Oar gets a free kick from the right, Ryan takes it and it goes nowhere. At the left flank Oar gets a foul and takes a free kick by the Spain byline and it just flies over the bar and just like that the whistle blows.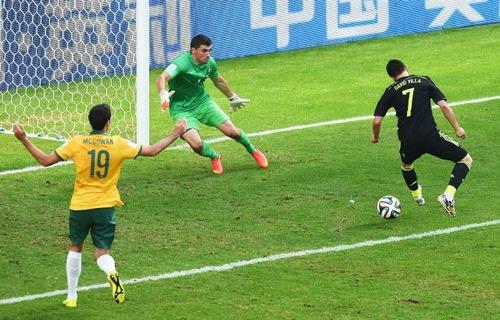 Half Time:
In teh second half SPain takes the lead. Australia has made a substitution, Ben Halloran in and Taggart out who barely made any impact on the first half. Iniesta's got the ball and he over hits it, Ryan approaches and the Aussie's are speeding down the left side and they overhit the ball again. Torres goes offside. Spain makes a change. Juan Mata takes palce for Villa. Davidson sends a pass to Leckie who squares it to Oar but he gets clumsy andl ooses a beautiful chance to goal. Another Australian substitution and Oar is out and James Troisi in. Ramos gets a yellow card for clipping Halloran. Australians are picking up and right outside Spain's defence, trying hard to get through. Spain's substitution, Cazorla takes place for Fabreges and immediately he trips over Mckay and gives away a free kick. And Spain goals again, credit goes to Torres. 82 minutes have passed and Spain goals again. They're giving a really hard time to Aussies. Juan Mata clips it past Ryan easily. Aussies are a long way behind. Whoa! Torres nearly had another goal till McGowan blocked him and the ball went astray. 90+1 minutes and Davidson prevents a near goal from Spain.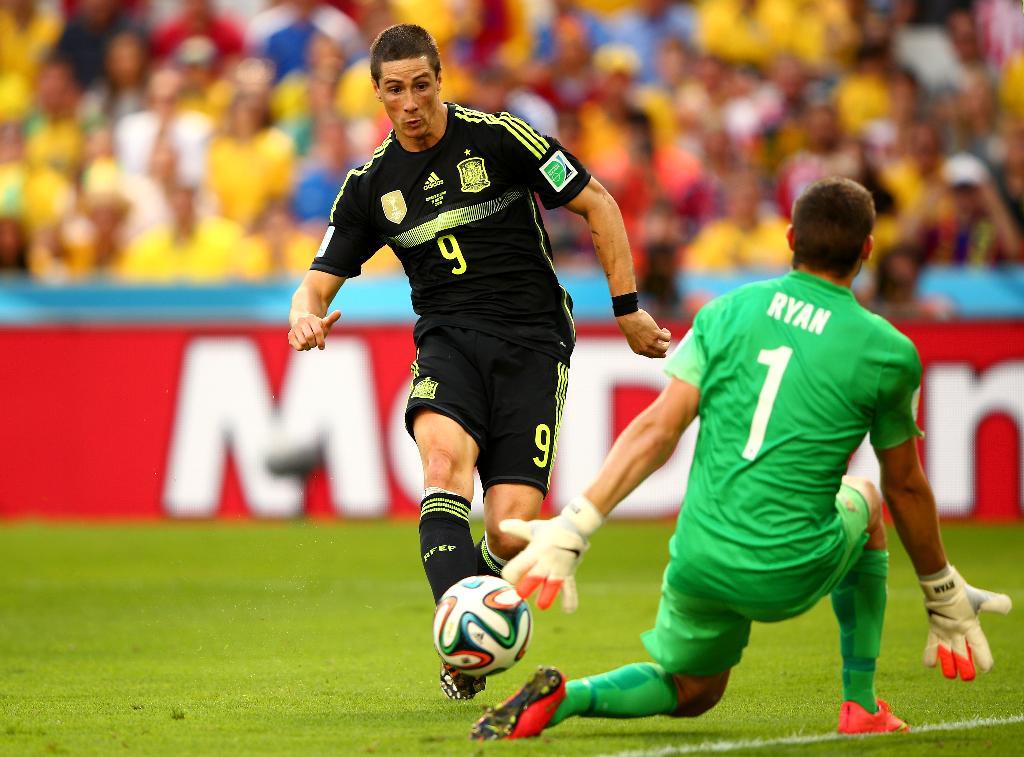 Video Highlights of Australia vs Spain