Ellen DeGeneres Biography
Last Updated: May 06, 2014
Ellen Lee DeGeneres was born in Metairie, Louisiana in January 26, 1958. She was born to Elizabeth Jane "Betty" Pfeffer, a speech therapist, and Elliott Everett DeGeneres, an insurance agent. She has one elder brother, Vance, a musician and producer. She was raised as a Christian Scientist until age 13. Her parents separated when she was 16 and her mother remarried salesman Roy Gruessendorf who moved her family including her brother to Atlanta, Texas.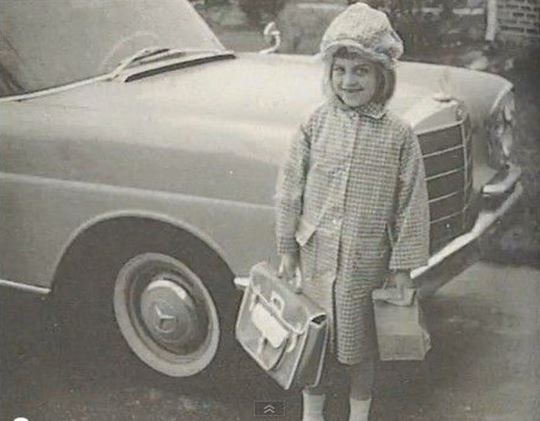 After her parents' divorce, DeGeneres, 16, used her comedic talents to help her mother Betty recover. "I was helping [my mother] cope with a broken heart. It brought us closer together and made me realize the power of humor," DeGeneres said in an interview. At the time her mother was struggling breast cancer and her stepfather was molesting her until she told her mother about it. She said in an interview that it was the most difficult time in her life.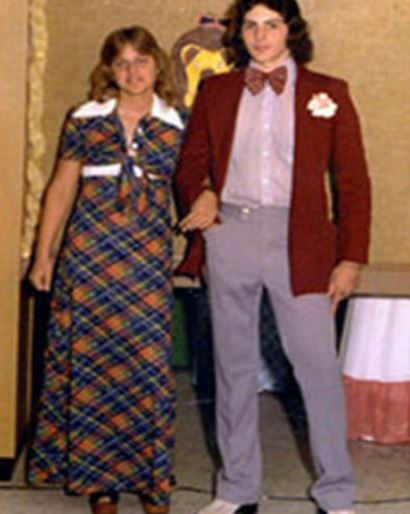 DeGeneres, 21, developed a relationship with Kathy Perkoff, 23, a poet. But shortly after this relationship Perkoff died in an accident. Afterwards she wrote a monologue "A Phone Call to God" about mortality and performed which won her the 1984 Showtime's Funniest Person in America award. She travelled to many places afterwards for performances in clubs and bars. And gradually she became one of the famous comedians in USA; even became first woman to be in "The Tonight Show" with Johnny Carson.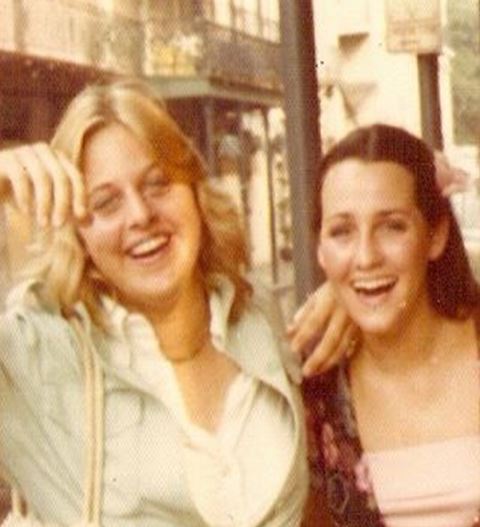 Her first small screen appearance was in 1989 with the Fox sitcom Open House. Next she appeared in ABC sitcom These Friends of Mine in 1994 which enjoyed huge success and earned DeGeneres four Outstanding Lead Actress Emmy nominations, a writing Emmy win, and three Golden Globe nods in its five-year run.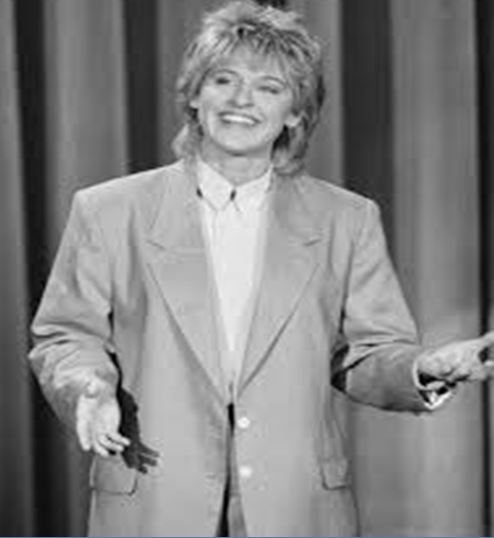 In 1997 she publically admitted she is a gay on Time Magizine cover. "I just happen to be gay, and I didn't feel like keeping it a secret, so I announced it. It all turned into this whole big political thing." That was a time when she started a relationship with Actress Anne Heche, 27. The religious groups protested against the Gays and Lesbians community and due to a lot of pressure ABC sitcom couldn't continue Ellen in their show.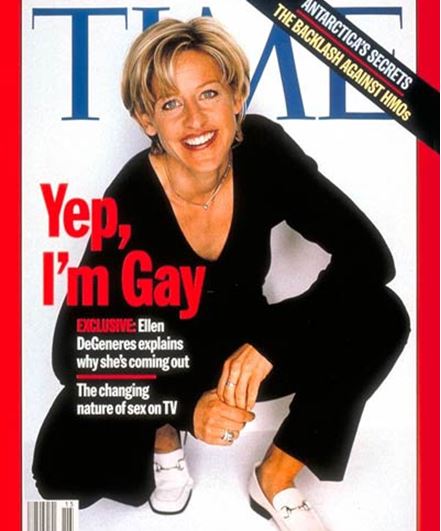 Ellen and Anne announced their break up in 2000 after three and half years of relationship. DeGeneres quickly found her new love. Her mother Betty told the New York Post that DeGeneres has a new girlfriend: 31-year-old actress/photographer Alexandra Hedison.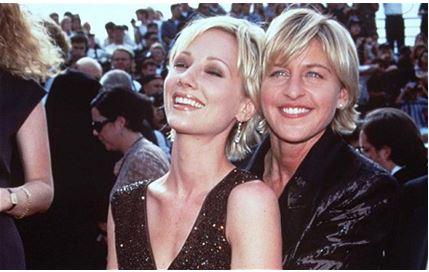 In 2001 she returned to small screen with The Ellen Show with a lesbian character but the show was cancelled after three months.
DeGeneres appeared in two movies – Ron Howard's Edtv, and The Love Letter. DeGeneres voiced Dory, a neurotic fish with a memory problem, in Disney's Finding Nemo. The movie grossed more than $860 million worldwide and wins Best Animated Feature at the Oscars. "I wrote it completely with [Ellen] in mind," Nemo director Andrew Stanton told the Chicago Sun-Times.
The Ellen DeGeneres Show started again in 2003 "I want the show to reach people and to be something positive," she said in an interview. "[in 1998], I lost my show, I lost my entire career, and I lost everything for three years. I got to learn that I was strong enough to start over again."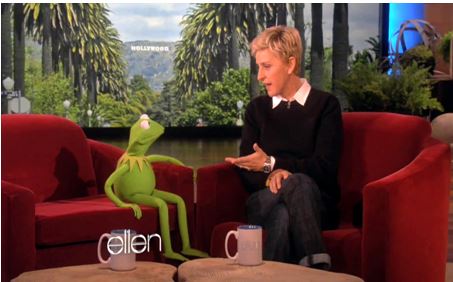 In 2004 American Express signed DeGeneres as one of its spokespeople for a global ad campaign. The same year she ended her relationship with Hedison. A year later she hosted the 57th Academy awards. In 2007 she hosted the 79th Annual Academy Awards at Kodak Theatre, the second woman (Whoopi Goldberg was first) ever to host the show solo.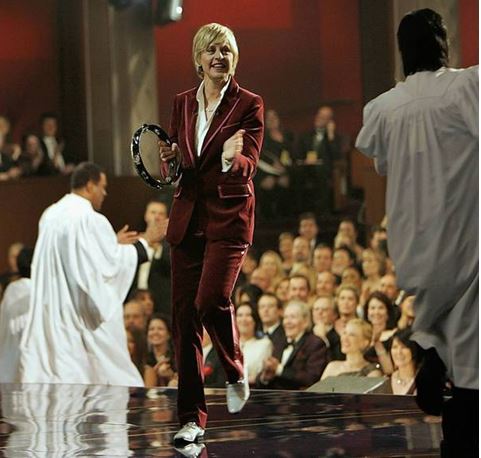 In 2008, Ella, 50, married her girlfriend Portia de Rossi, 35, at their L.A. home. The ceremony was done after the court struck down California's laws against gay marriage. In November, Californians voted to ban same-sex marriage, setting the stage for a court battle over the legitimacy of marriages like DeGeneres. "I was saddened beyond belief," she said of the ban. In September same year she announced she is the "new face of CoverGirl."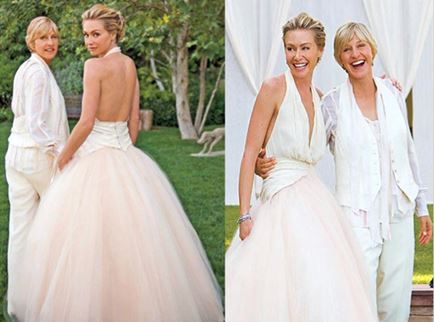 In 2009-2010 she judged American Idol replacing Paula Abdul but she announced her departure from the show some months after Simon Cowell left the show. "Didn't feel like the right fit for me. I also realized this season that while I love discovering, supporting and nurturing young talent, it was hard for me to judge people and sometimes hurt their feelings," she said.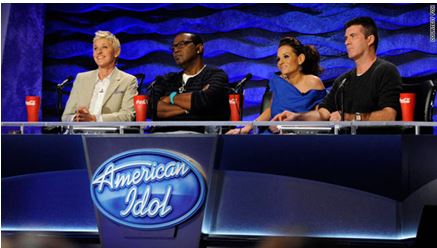 She announced on twitter that she will be hosting 2014 Academy awards. "I'd like to thank the Academy, my wife Portia and, oh dear, there goes the orchestra," she Tweeted, while producers Craig Zadan and Neil Meron released a statement in praise of the star. "She is beloved everywhere and we expect that the audience at the Dolby Theatre, and in homes around the globe, will be as excited by this news as we are," Ellen DeGeneres wants to make Australia her home as she finishes her tour with Portia de Rossi.