Warning
: mysqli::query(): (HY001/1038): Out of sort memory, consider increasing server sort buffer size in
/var/www/fanphobia.net/html/includes/functions.php
on line
351
Hillary Clinton holds head high as Trump takes office
Last Updated: January 21, 2017
Hillary Clinton kept a stiff upper lip Friday as Donald Trump took the oath of office for a presidency she was favored to win.
Clinton was just feet away from Trump when he took the presidential oath, sitting with her husband, former President Bill Clinton.
There was no interaction with Trump during the ceremony, and Trump did not mention Clinton — who won 3 million more popular votes — during his speech.
The two did cross paths later, shaking hands. Trump thanked her for coming.
Those close to Clinton say appearing at the Capitol wasn't easy for her. But after some discussion with close advisers in recent weeks, she knew it was the right thing to do.
Clinton wore a white coat -- something she did often on the campaign trail to represent the color women wore during the suffrage movement. She and Bill Clinton were introduced to the inaugural stage by the announcer as "the 42nd president of the United States, William Jefferson Clinton, and the honorable Hillary Rodham Clinton."
For Clinton's supporters, both were painful reminders of how close Clinton -- the first woman to clinch a major political party's nomination for president -- had come to becoming to the president of the United States.
With the exception of when she exchanged pleasantries with other dignitaries on the stage, Clinton, for the most part, appeared stoic.
Trump, with his former political opponent seated behind him, delivered an inaugural address reminiscent of his campaign speeches, vowing that the "forgotten men and women of our country will be forgotten no longer."
"This
American carnage
stops right here and stops right now," Trump said.
Trump did not mention Clinton in the address.
But during the luncheon honoring Trump and Vice President Mike Pence in the Capitol's Statuary Hall, Trump rose to deliver gracious remarks about Clinton. It was a striking contrast from even a few months ago, when Trump had threatened to jail her if he became president and repeatedly dredged up some of the most painful moments of the Clintons' turbulent marriage, including Bill Clinton's infidelities.
"I was very honored, very, very honored, when I heard that President Bill Clinton and Secretary Hilary Clinton was coming today," Trump said, before asking both to stand, when they received a long round of applause.
"Honestly," Trump added, "there's nothing more I can say because I have a lot of respect for those two people."
For Clinton and her aides, losing the presidential election to Trump had been a difficult scenario to imagine for the better part of the general election. In the heat of a contentious and bitter campaign, the former secretary of state let her tone grow increasingly dark, as she repeatedly warned the American people that the values Trump espoused were un-American.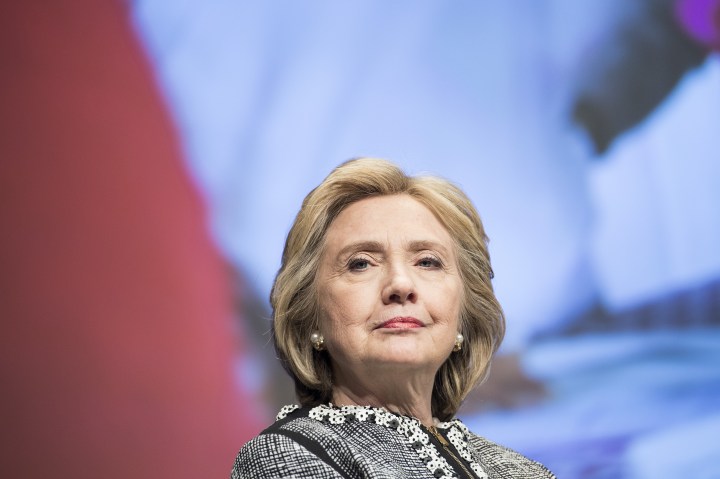 "Imagine that on January 20, 2017, it is Donald Trump standing in front of our Capitol and taking the oath of office," Clinton told her supporters in Las Vegas, Nevada, just three days out from the election. "Imagine with me what it would be like to have Donald Trump sitting in the Oval Office come next January."
More than two months after the election, a political scandal that had haunted Clinton's presidential run still lingered.
GOP Rep. Jason Chaffetz, the chairman of the House Oversight Committee that investigated Clinton's use of a private email service during her time at the State Department, posted a photo of himself shaking hands with Clinton on the inaugural platform.