Miguel Cotto vs Sergio Martinez: Miguel Cotto scored four knockdowns and Wins
Last Updated: June 08, 2014
Today on 8th June 2014 Miguel Cotto scored four knockdowns out of which three in first round and took win over Sergio Martinez at Madison Square Garden.
Puerto Rico's Miguel Cotto became a four-division champion by stopping Martinez after nine rounds of one-sided action and wins the Ring Magazine and WBC middleweight championship. This is one of the historical fights when Miguel Cotto (39-4, 32 KO) knockout Sergio Martinez (51-3-2, 28 KO) three times in the first round.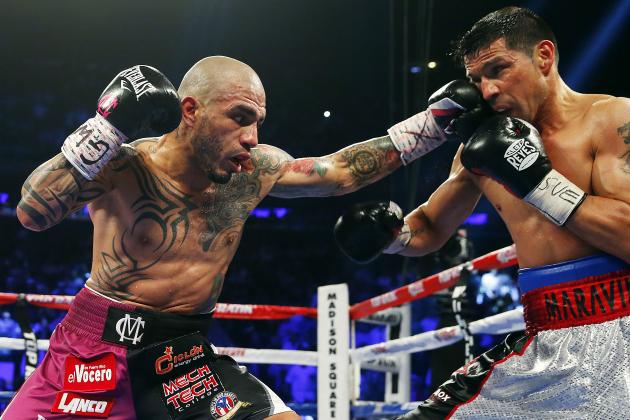 After nine rounds all three judges scored 90-70. Cotto landed 212 of 395 punches (54%) overall, and 158 of 293 (54%) power punches while Martinez landed just 100 of 322 punches (31%), and 60 of 157 (38%) power shots.
Martinez said, "I got hit early, and I was cold. I never recuperated after that,".
"You've got to know how to win, and know how to lose," he said. "If nothing else, I can only say congratulations to Miguel Cotto."