Scream Queens Premiere New Season, New Place, Same Delightful Insanity
Last Updated: September 21, 2016
Sponsored Links
Nothing is scarier than checking into a hospital… except when that hospital enrolls self-absorbed sorority girls as med students.
Emma Roberts, Abigail Breslin, and Billie Lourd's Chanels are back for season 2 of Scream Queens, the comic thriller from creators Ryan Murphy, Brad Falchuk, and Ian Brennan which premieres Tuesday at 9 p.m. on Fox. The Scream Queens return jumps ahead three years and places the characters in a hospital owned and run by ex-dean of students Cathy Munsch (Jamie Lee Curtis). "We had so much fun onNip/Tuck doing these kind of odd patients and we thought it would be fun to bring them into this world," explains Falchuk.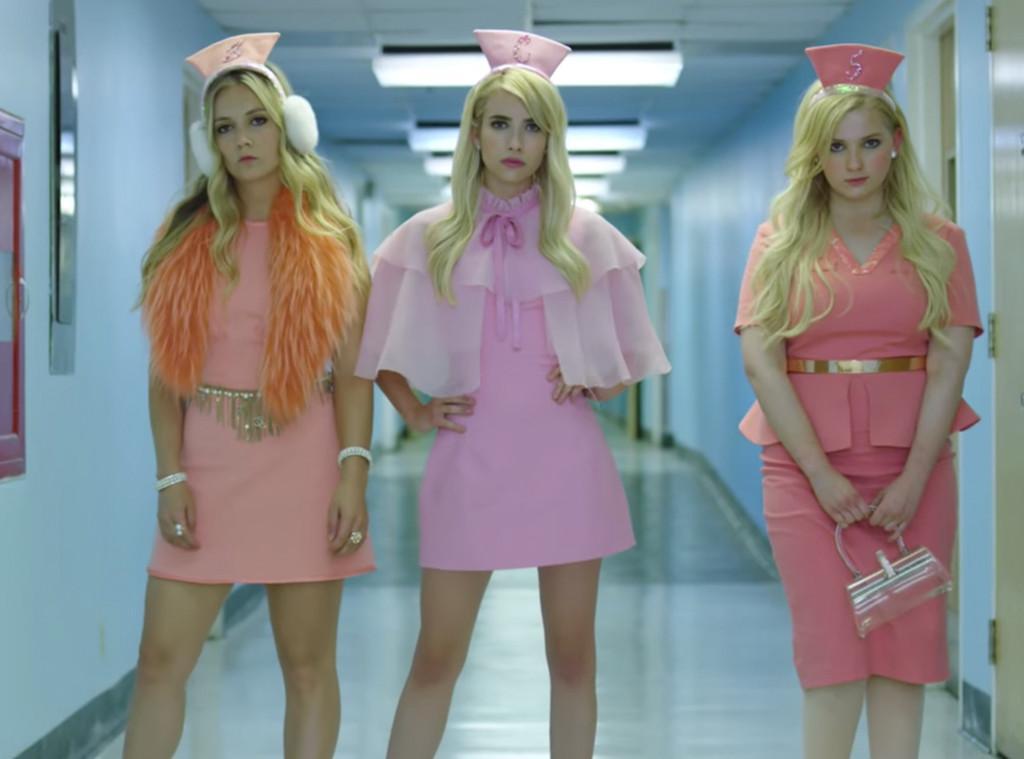 The Chanels were framed for the Red Devil's killings and sent to an asylum in the season 1 finale, and now they've been released thanks to a very timely twist. Explains Falchuk, "Somebody decides to make a Netflix Making a Murderer documentary about the Kappa murders and so it becomes very clear that these people didn't do it." Munsch gives the Chanels a chance to redeem themselves at her hospital (Keke Palmer's Zayday is also a med student there), but all that is challenged when a masked killer starts carving up visitors. Among the suspects/potential victims are the mysterious Dr. Cassidy Cascade (Taylor Lautner) and arrogant chief of surgery Brock Holt (John Stamos). "When you're on network television shows, they always want to find some redeeming thing about you," says Stamos. "That topic hasn't come up yet for my character."
What has come up, though, are some fairly racy locker-room scenes between Brock and Chanel No. 1's ex-boyfriend Chad Radwell (Glen Powell). "Tomorrow Glen and I are in the locker room together so we're just texting each other all day about what we're getting waxed this afternoon," says Stamos with a laugh. "He lives with Chord Overstreet and said he got Chord to wax his back for him. So I said, 'I'm gonna get [Bob] Saget over here to wax me.'" Now, that's chilling.