Warning
: mysqli::query(): (HY001/1038): Out of sort memory, consider increasing server sort buffer size in
/var/www/fanphobia.net/html/includes/functions.php
on line
351
Narendra Modi-Donald Trump meeting in Washington Endorses India's Stand On China-Pak Corridor
Last Updated: June 28, 2017
Donald Trump welcomed Narendra Modi to the White House on Monday afternoon, and praised him for being "such a great prime minister" of India.
The US president declared that ties between Washington and New Delhi had "never been stronger" - and the pair sealed their bond with not one, but three hugs.
"The relationship between India and the United States has never been stronger, never been better," Mr Trump said.
"I am thrilled to salute you, Prime Minister Modi, and the Indian people for all you are accomplishing together.
"Your accomplishments have been vast. India has the fastest-growing economy in the world. We hope we'll be catching you very soon in terms of percentage increase - I have to tell you, we're working on it!"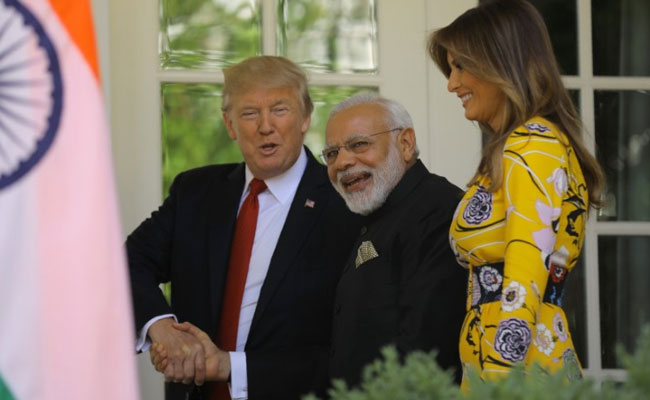 The New York Times
The New York-based newspaper ran a story headlined 'Trump Meets India's Leader, a Fellow Nationalist Battling China for His Favor' calling both leaders 'nationalist' with a shared passion for social media. At the same time, it expressed concerns that India might have with Trump perhaps showing less interest than his predecessors.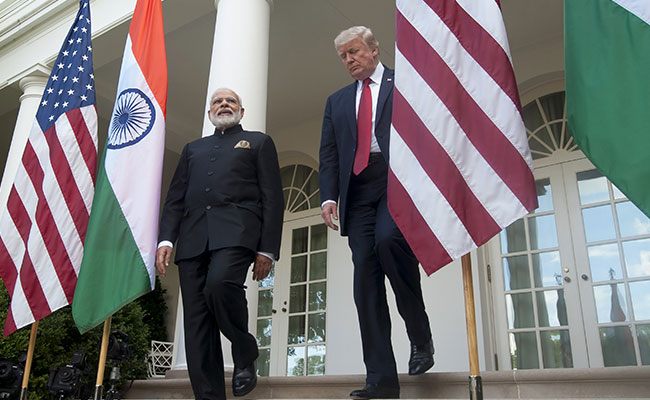 "Yet the mutual admiration masked a more complicated dynamic between India and the United States. While ties between the two have grown steadily closer over the last two decades, India faces new uncertainties with Mr. Trump, who has shown less interest than his predecessors in maintaining a web of trade and security alliances in Asia. India, like other countries in the region, has watched Mr. Trump's cultivation of Mr. Xi with concern. His trade and immigration policies, particularly limits on visas commonly used by technology workers from India, have added to the jitters, as did his decision to pull out of the Paris climate accord," it said.
Canadian Prime Minister Justin Trudeau was one of the first leaders to visit the White House and cameras caught an awkward look on his face just ahead of his Oval Office handshake.
Mr Trump, who reportedly has a fear of germs, refused to shake German Chancellor Angela Merkel's hand on her visit to Washington, appearing to not hear her asking if they should so in front of cameras. He went on to criticise Germany on a number of items, mainly its lack of defence spending as a member of the North Atlantic Treaty Organisation (Nato) military alliance.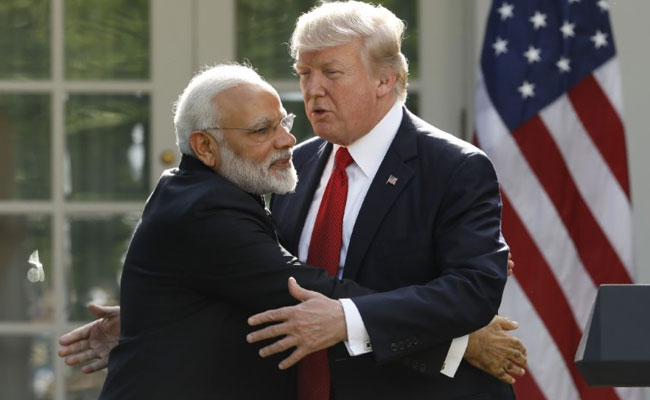 He has also had awkward encounters with other world leaders, like the time cameras caught him pushing Montenegrin Dusko Markovic out of his way at the Nato summit in May 2017.
However, Mr Trump has had kind words about Mr Modi since 2014 when the Indian leader was first elected and the mood appeared to be the same during the 26 June visit, with the President saying the US is a "true friend" to India.