10 Celebrities with Worse Plastic Surgery Effects
Last Updated: April 28, 2014
For Celebrities it's all about looks, small screen or large screen, the better you look the more you are liked. The showbiz industry wants characters which are flawless as far as looks are concerned. Celebs can go to any limits to get what they want. Plastic surgeries and cosmetic surgeries are very common nowadays. Many times it works for celebs but sometimes it goes the other way.
Here is a list of some celebrities whom Plastic Surgery went wrong.
1) Paris Hilton Plastic Surgery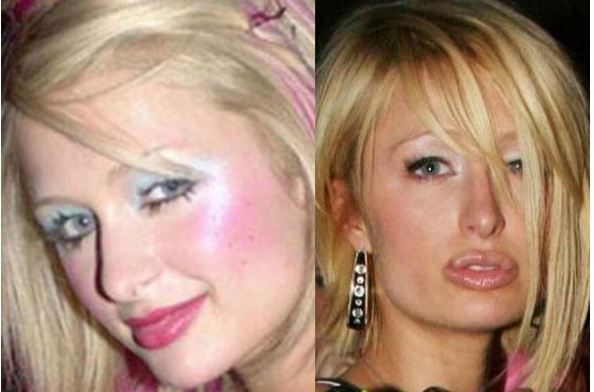 She did Rhinoplasty, Lip Enhancement and possibly a b**b job. But seriously apart from the last one her thin nose and lips looks worse after the surgery.
2) Daryl Hannah Plastic Surgery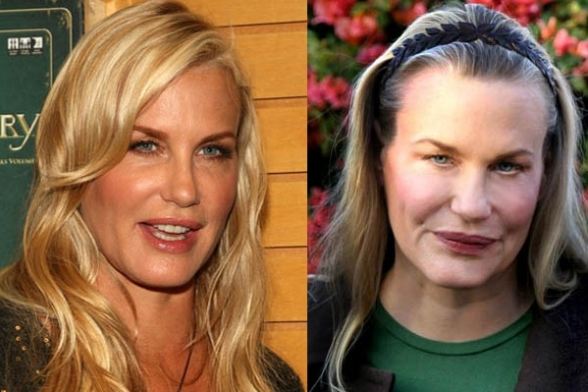 Sometimes the natural glows goes away with the plastic surgery as happened in this case. Rumored face lift, brow lift and fillers in her cheeks and lips had done worse to her looks then doing any better.
3) Dolly Parton Plastic Surgery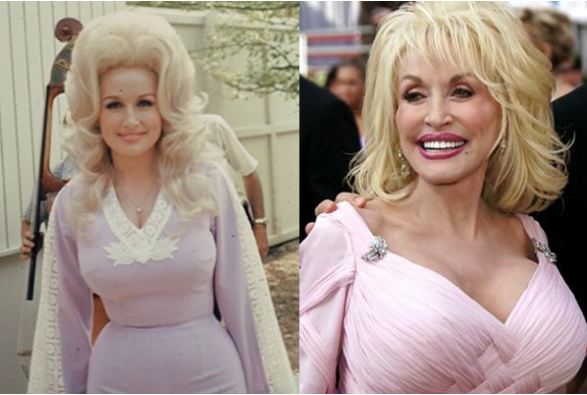 She looked like a doll in her younghood. Afterwards she has done almost every type of plastic and cosmetic surgery including Breast Augmentation, Brow Lift, Fat Grafting, Blepharoplasty, Rhinoplasty, more than one facelift and botox. And now the picture is self explanatory.
4) Lindsay Lohan Plastic Surgery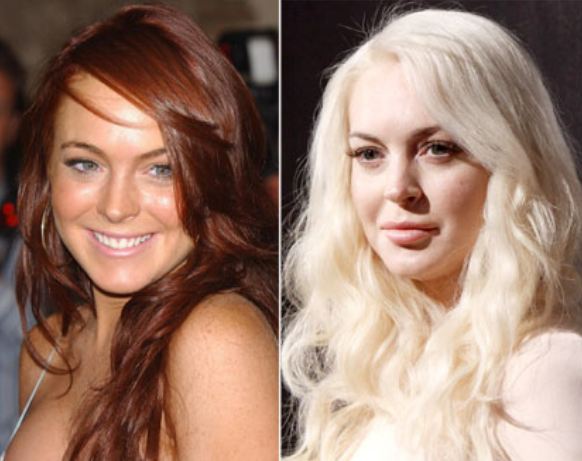 She hasn't publically admitted about her plastic surgery but it is obvious that she had one. Agreed that her Cheek Fillers helped her look better but the Lip Enhancement looks bad on her.
5) Janice Dickinson Plastic Surgery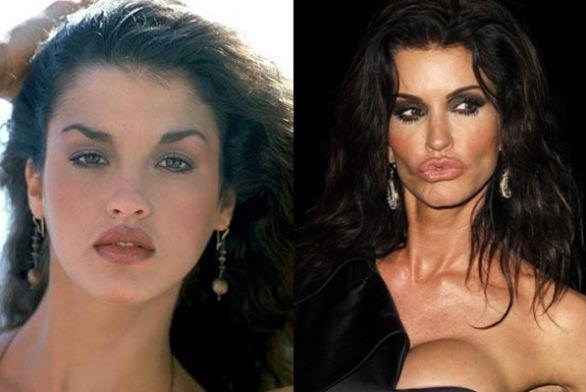 One of the worst results of plastic surgery is here. Breast enlargement, tummy tuck, liposuction, neck and facelifts, Botox, almost all of them went wrong turning the supermodel into a worst look.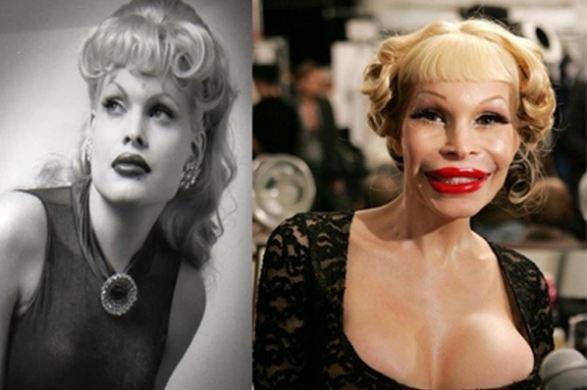 The after results of plastic surgery are devastating. Look at her lips, they never stopped growing. She did Rhinoplasty, three breast augmentations, forehead lift, brow bone reduction, hip enlargement, liquid silicone injections for her lips.
7) Igor And Grichka Bogdanoff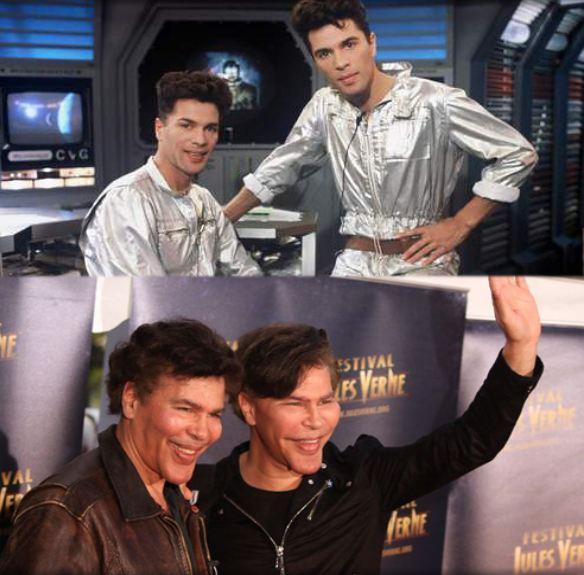 Obsession is a dangerous thing, the once ridiculously handsome twins literally mutated into otherworldly creatures, right in front of our eyes. What they did was Chin and Cheek implants, botox, collagen lip injections, and fillers.
8) Scott "Carrot Top" Thompson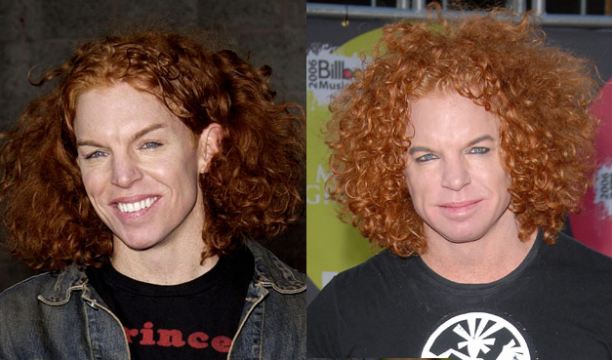 He was really funny once with his comedy and his face really helped him doing so. Then maybe he thought to look like less funny and turned into a Evil Clown. He did Face lift, Brow Lift, Botox and possibly lip injections enough to kill his comedy career.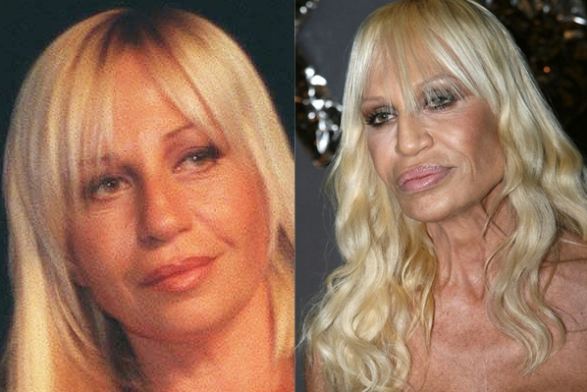 I wonder, how a Fashion designer can have such a bad taste of looks and appearances. Multiple Face lifts, Collagen for her lips, Rhinoplasty, Breast implants and this result will definitely open her eyes what went wrong, I hope.
10) Heidi Montag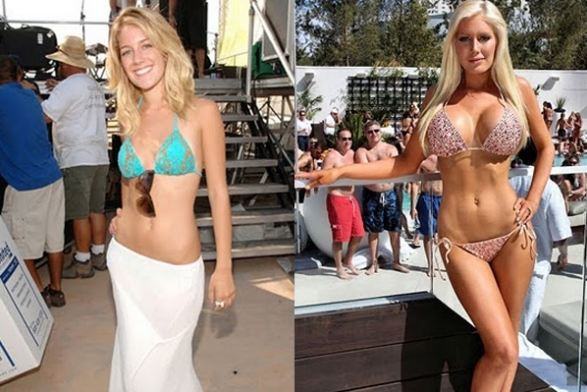 She is just 25 and has done mini brow lift, botox, nose job, fat injections in the cheeks, chin reduction, neck liposcution,ears pinned back, breast augmentation, liposuction on waist, hips, thighs and buttock augmentation so far. I wish she have seen the top 9 list above before doing so. She already is looking worse than before so I think she has already taught herself about Plastic and Cosmetic surgery.