Warning
: mysqli::query(): (HY001/1038): Out of sort memory, consider increasing server sort buffer size in
/var/www/fanphobia.net/html/includes/functions.php
on line
351
Agnes Nixon, Creator of All My Children One Life to Live Dies at 93
Last Updated: September 29, 2016
The grand dame of daytime television drama, Agnes Nixon liked to say that "everyone's life is a soap opera." For proof, she offered up her own.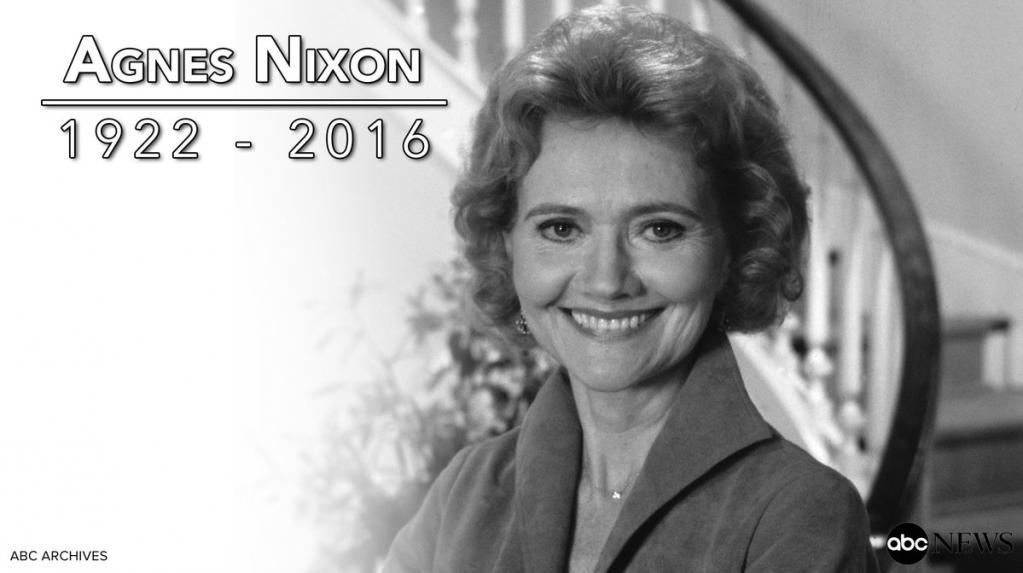 She had an "abandonment complex" because her parents divorced soon after she was born. Growing up in an Irish-Catholic enclave in Nashville in the 1930s and 1940s, she felt painfully different because the other children all seemed to have fathers. Hers was "nearly psychotic" and schemed to crush her post-collegiate dream of being a writer.
She was really a great wife, mother and human being - but above all, a writer. She was writing up until last night," he said, and had called him with a few changes for the book.
The cause of death was not immediately known, he said.

Nixon suffered a stroke four years ago with serious complications, her son said, but she fought to regain her health. He confirmed her birthdate as December 1922, despite media reports that she was 88.

"I am devastated to learn that we have lost Agnes. I adored her and admired her and I am forever grateful to her!" Susan Lucci, who starred as Erica Kane on "All My Children," said in a statement.

Nixon created, wrote and produced the long-running ABC daytime serials, which were canceled in 2011 as the network bowed to the reality that soaps had faded as a daytime TV force. (Both subsequently had short-lived online runs.)
Over the years, she amassed nine Daytime Emmy writing nominations and four wins, as well as a Lifetime Achievement Award.
"All My Children" ended in 2011 and "One Life to Live" concluded the next year. Both shows had a brief return online in 2013, but that effort lasted only one season.