Warning
: mysqli::query(): (HY001/1038): Out of sort memory, consider increasing server sort buffer size in
/var/www/fanphobia.net/html/includes/functions.php
on line
351
Jennifer Lawrence On Why She Got A Pixie Cut: 'It Grew To An Awkward Gross Lengh And I Just Cut It Off'
Last Updated: November 09, 2013
Jennifer Lawrence On Why She Got A Pixie Cut: 'It Grew To An Awkward Gross Lengh And I Just Cut It Off'
The 23-year-old actress shocked fans when she debuted a dramatic new pixie cut in a photo uploaded to her Facebook page Wednesday.
Jennifer Lawrence's new pixie haircut is "catching fire," but the result came from dye damage and other overstyling.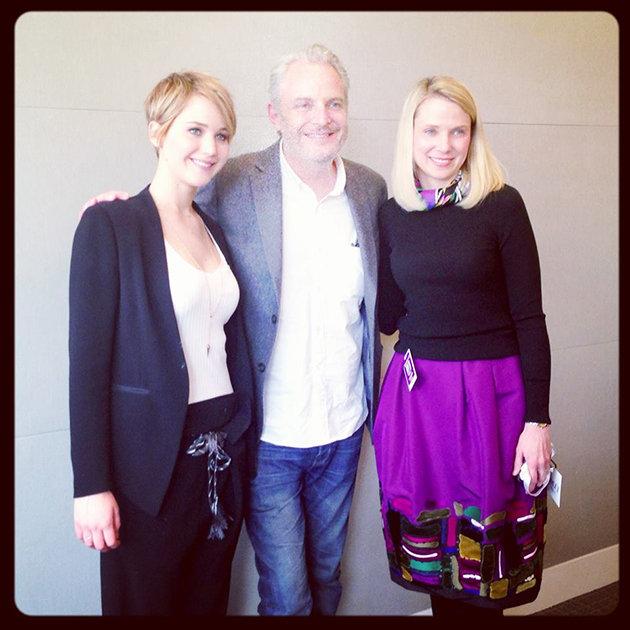 No, it wasn't just to freak out "Hunger Games" fans who shudder at the thought of Katniss Everdeen without her signature brunet braid.
"No, this isn't how Katniss is going to look in the next movies, don't worry," the 23-year-old star said during a Yahoo chat on Thursday. "I'm wearing a wig [in them]."
"I don't know, I cut it earlier, and it was just kind of like [shoulder-length] and it grew to that awkward, gross length," she said. "I just kept putting it back in a bun, and I said, 'Well I don't want to do this,' so I just cut it off."
It "couldn't get any uglier," she quipped. Just after that, the trend-setting starlet went on a long-winded tirade about body image in Hollywood after an audience member solicited advice for people experiencing harsh disparagement from their peers.
"Well, screw those people," she said. "It's something that everybody experiences. I experienced it in school. The world has a certain idea -- we see this airbrushed perfect model image. ... You just have to look past it. You look how you look. And be comfortable. What are you gonna do, be hungry every single day to make other people happy? That's just dumb."
Then the Dior spokeswoman went after E!'s snark fest "Fashion Police," hosted by sharp-tongued comedienne Joan Rivers.
"And there's shows like the 'Fashion Police' and things like that are just showing these generations of young people to judge people based on things... that they put values in all the things that are wrong and that it's OK to point at people and call them ugly and call them fat and they call it 'fun' and 'welcome to the real world.' And it's like, that shouldn't be the real world. That's going to keep being the real world if you keep it that way. It's not until we stop treating each other like that and just stop calling each other fat ... with these unrealistic expectations for women. It's disappointing that the media keeps it alive and fuels that fire.' ,she said.
'that's something that really bothers me because i love to eat' she finished with a laugh.