Warning
: mysqli::query(): (HY001/1038): Out of sort memory, consider increasing server sort buffer size in
/var/www/fanphobia.net/html/includes/functions.php
on line
351
Sanjay Leela Bhansali Assaulted On Padmavati Sets in Jaipur, Bollywood Demands Action
Last Updated: January 28, 2017
When National Award-winning film director Sanjay Leela Bhansali was slapped and assaulted in Jaipur on the sets of his film, among the first few to come out in his support was filmmaker Karan Johar, who took to Twitter to support the Padmavati auteur. Karan should know just how hazardous it is to be a part of the film industry in India in today's day and time.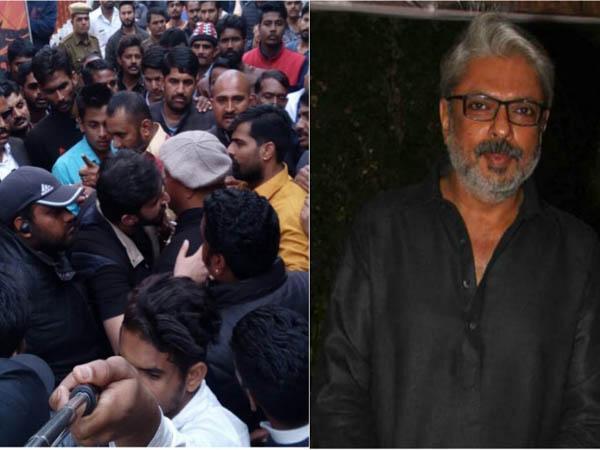 Large numbers of people owing allegiance to the Rajput youth outfit reached Jaigarh Fort on Friday morning and disrupted the shooting.
"We had learnt that a few intimate scenes between Alauddin Khaljiand Padmini were part of the film and it is completely unacceptable for us. On Friday morning, when members of Karni Sena went to the Jaigarh Fort, an argument happened and some people associated with the shooting party opened fire on air which accelerated the tension," alleged Lokendra Singh Kalvi, founder, Karni Sena.
A clash occurred between both the parties and equipment was vandalised.
Till now, the fight between moral brigade and Bollywood has been one-sided. They assert and actors, filmmakers give way or go silent. Karan made a start as he wrote, "Having been through many instances of turmoil during a film shoot or release…i understand Sanjay's emotion at this point…I stand by him… Am appalled at what has happened with Sanjay Bhansali….this is the time for all us as an industry to stand by our people and fraternity!!"
Bollywood will do well to remember Martin Luther King, Jr's words, "History will have to record that the greatest tragedy of this period of social transition was not the strident clamour of the bad people, but the appalling silence of the good people."
Anurag Kashyap, the one to never mince his words has already given a voice to it, "Can once the whole film industry come together and take a stand, and refuse to be a pony that all … ride on?? "he asked.
It is time Bollywood stood up for itself, as one body, as a force because as a changemaker the power that Bollywood enjoys is unparalleled. To give into parochial forces will not just be unfortunate for the industry, it will be unfortunate for us as a nation.
Meryl Streep has a message for all people creative when she said at Golden Globes, "As my, as my friend, the dear departed Princess Leia, said to me once: 'Take your broken heart, make it into art.'" Bhansali, Johar, Kashyap and their frat can do nothing better.