Today Celebrited Hug Day Around the World
Last Updated: February 12, 2017
Hug day is the seventh day of the Valentine's week which is celebrated every year on 13th of February especially by the youths as well as interested people of any age group. Earlier it was the western culture event however, started celebrating everywhere in all regions of the country.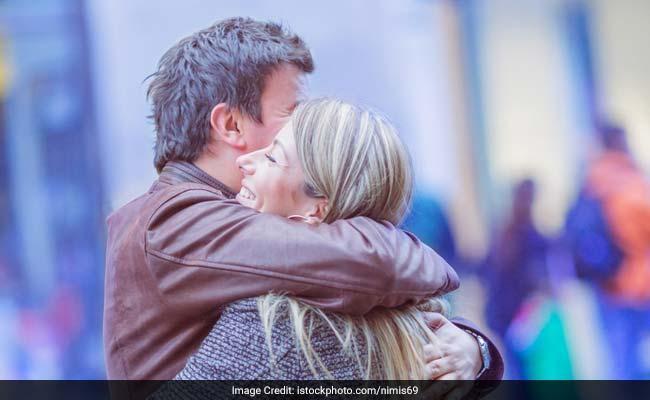 Hug Day 2017
Hug Day 2017 would be celebrated all across the world by the people on 13th of February, at Monday.
How Hug Day is Celebrated
Hug Day is one of the most special days of the valentine week which is celebrated by the people of all age group by hugging each other. They hug their partner, friend, loved ones and etc very tightly to express their love and affection. Hug is a process of meeting each other very tightly in standing position. It has capability to relieve one from any problems and freshens the mind. If one person hugs another person, it makes him feel like he has been hugged by his loved ones.
Hugging has a lot of health benefits as well as it brings natural and feeling of being loved by someone. It may enhance the psychological and physical development of the person being hugged. It builds up and strengthens the immune system and decreases the risk of chronic heart diseases by decreasing the stress hormone, cortisol level, in blood. It has been proved that a hug of just 20 seconds brings a lot of happiness as well as enhances the level of oxytocin hormone. It prevents the persons hugging each other from the high blood pressure and high heart rate. It makes the person feels very relax and comfortable after getting hugged by anyone.
Hug Day Quotes
"Love is a circular emotion that surrounds you, like a hug. Or a noose." – Jarod Kintz

"A hug is the perfect gift- one size fits all and nobody minds if you exchange it." – Irvin Ball

"Love is a peaceful feeling, like a flower hugging a butterfly." – Jarod Kintz

"HUG a letter stand for Helping Unlock Greatness." – zita h vasavan-ind-germany

"A hug a day keeps the bad boys away." – Jim Anderson

"One word can end a fight; one hug can start a friendship; one smile can bring Unity; one person can change your entire life!" – Israelmore Ayivor

"One day, I'll feel the depth of hugs once again, and it's going to feel like HOME." – Nouf Alfadl

"Hold my hands; kiss my forehead, hug me and look in my eyes; maybe today is the last day you can do this." – M.F. Moonzajer

"Be the first to hug and you will be the most to be the hugged." – Sajid Baig

"I never realized the warmth of his hug, until he was not around when I need it. 'Oh Dad! I miss you." – Sajid Baig

"My mom smiled at me. Her smile kind of hugged me." – R.J. Palacio

"…when someone is honest and vulnerable, they wring my heart – I want to hug them for being real." – John Geddes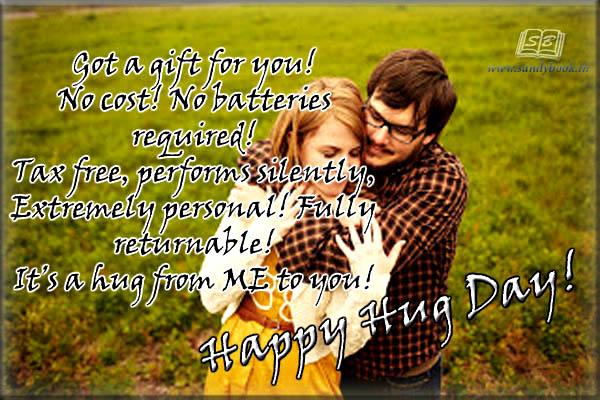 I have a special present for you my dear, but I need to borrow your arms for wrapping it. Love you my dear friend.
A sweet hug represents love and affection
to the person we hug,
I want to hug you my dear,
As I want to let you know,
How much I love and care you.
Happy hug day….
Alone? I'll be your shadow.
Want to cry? Here's my shoulder.
Need a hug? I'll hold you tight.
Because where your strength ends,
My worth of being your love begins. Happy Hug Day!
A hug is a handshake from the heart and I am sure a hug will help you feel calm and happy. Happy Hug Day.\
Give a nice hug to your kids,
And wish them a very happy hug day,
With lots of care and love.
Happy hug day…..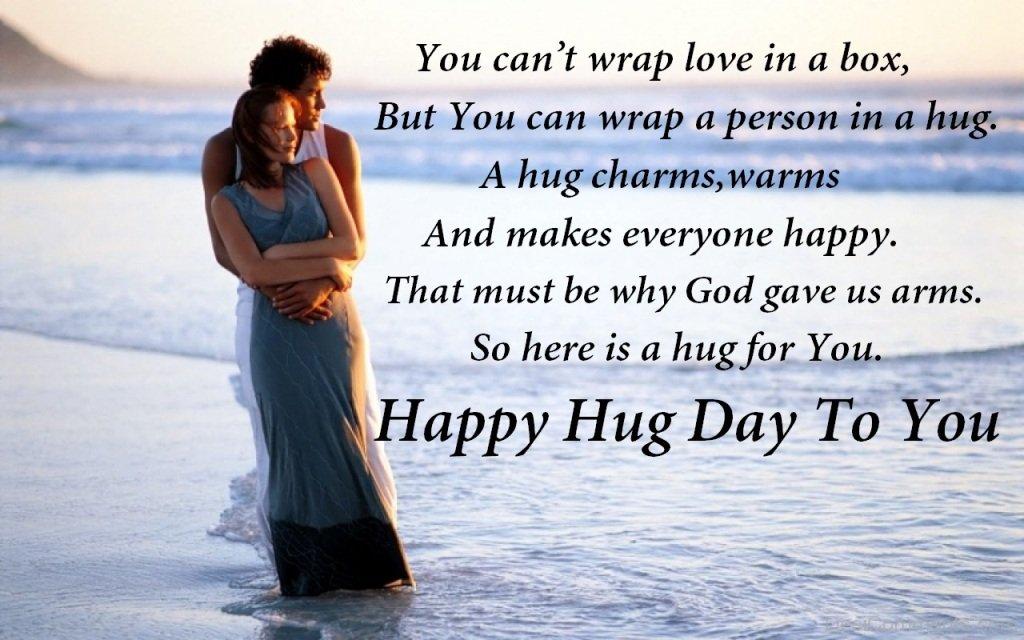 love you and
It does not matter
How far you are
I just hug you
In my prayers.
Happy hug day…….
You are so special to me.
There is nothing better than Having you as a friend to share each day with!
Thank you for making my day brighter
Happy Hug Day!!